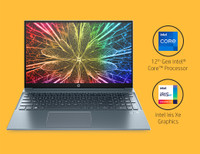 Powerful Processor and Graphics Card
Featuring a 12th Gen Intel processor and graphics card, the HP Pavilion Core i5 12th Gen EG2035TU Laptop offers exceptional performance even when you're on the move. Also, its Intel design enables you to conveniently edit and work on your tasks while switching between different applications with ease.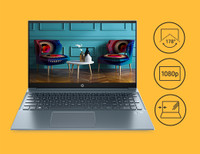 High-quality Visuals
Offering up to 1920x1080p resolution, this laptop boasts clear visuals and images. Additionally, with up to 2 million pixels, this laptop can display digital content with enhanced clarity.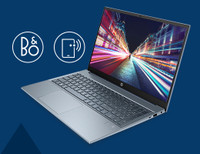 Engrossing Audio
Boasting Bang and Olufsen Play, this laptop delivers realistic and rich audio. Also, with dual HP speakers and HP audio boost, this laptop provides an enthralling sound experience.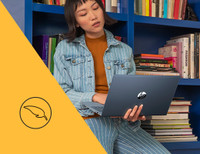 Lightweight Body
Sporting a lightweight body, this laptop ensures that you won't feel a heavy weight when it's in your bag or on your hands, enabling you to easily work on the go.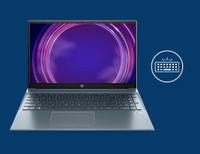 Backlit Keyboard
Thanks to its backlit keyboard, this laptop's keys light up in case of low-light or dark conditions, so you can work comfortably even at night. Moreover, its backlight illuminates the small area surrounding the key, giving you a clear view.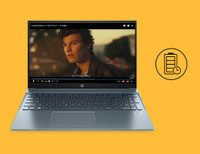 Long Battery Life
Courtesy of its rapid charging, this laptop can charge fully in a short duration, so you won't have to wait for a long time. Furthermore, this laptop offers a smooth, quick, and highly responsive computing experience, allowing you to accomplish your tasks even when you are travelling. Additionally, its battery can smartly alter its performance based on the requirements of the system and other battery specifications, resulting in exceptional performance.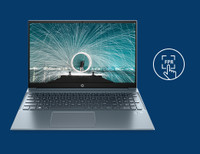 Fingerprint Reader
With its Fingerprint Reader feature, this laptop allows you to easily secure it with the unique print of your fingers, thereby ensuring utmost safety. Moreover, this fingerprint reader allows you to safely log in to this laptop with just a touch of your finger.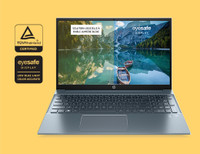 Eye-safe Display
Featuring a flicker-free UWVA display with low blue light and accurate colours, this laptop helps protect the eyes from getting strained. Moreover, you can easily change your viewing angle and experience the same quality of visual images.