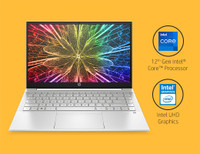 Powerful Processor
The HP Pavilion laptop's processing capability combines with the sheer strength of the 12th Gen Intel processor and graphics to provide an environment that is suitable to bring out your creative instincts. Moreover, you can edit and compose with fast task switching between several programmes without any hassle thanks to Intel's design.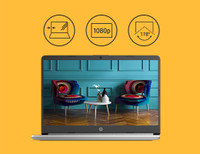 Incredible Graphics Performance
Enjoy 1920 x 1080 resolution for sharp graphics and pictures that give all of your digital stuff a unique profundity. You can seamlessly experience digital content with the power of 2 million pixels and stay right in the centre of the action.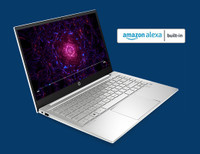 Astounding Voice Control
You can easily manage your entertainment with built-in Alexa. You can ask for the weather or even your favourite music, and you shall get it. This way, you can simplify your life by talking to Alexa using your voice.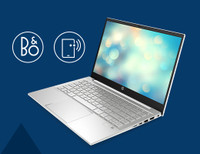 Elevated Audio
Activate the Bang & Olufsen Play to enjoy rich and genuine sounds. Each sound has been enhanced to completely engulf you in a sound that transports you to a different realm. Moreover, each note and sound is brought to life by the combination of the Dual HP speakers and HP audio boost.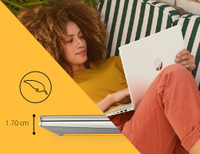 Slender Design
Since it is so light, you can take it anyplace without even noticing how much weight it is on your hands or in your backpack. Moreover, with the power of this laptop, see every picture and graphic come to life on your screen.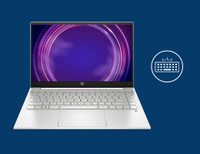 Illuminated Keyboard
With the backlit keyboard, which lights keys in dim or completely dark settings, the darkness won't be able to stop you. The little area around the key is frequently illuminated by the backlight, which improves keyboard visibility even further.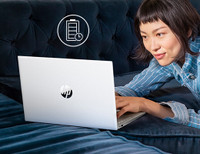 Stupendous Performance
With the battery's lightning-fast charging, you can enjoy a computing experience that is smooth, quick, and astonishingly responsive so you can complete all of your chores on the move worry-free. Moreover, you can seamlessly experience stupendous performance provided by a battery that intelligently responds to system requirements and other battery factors.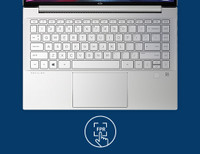 Fingerprint Reader
Encrypt your laptop with the Fingerprint Reader function and your unique fingerprint for assured security. Your fingertip effectively logs you in with the fingerprint reader.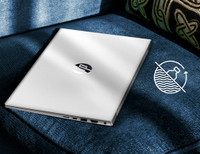 Durable Design
This laptop boasts a speaker grill and packaging made from Ocean bound plastic which makes this laptop durable and eco-friendly. Because of its C-bucket 3D metal construction, which is strong and long-lasting and minimises separating lines, the overall appearance is extremely upscale and attractive.